Speaker pursuit road > D-111 escargot M>
Failure?
I might have failed in the production of this speaker though it was very regrettable. The impression when first like it auditioning is not good. Because it takes time too much, it compromises on the way and it has bonded though the sound road part doesn't steady, the sound road part shifts in the maximum by about 2mm, and it corrected it with the plane though whether it was bad the way to ask for cutting or unskilled the trader is not understood when this plywood is cut. In addition, this speaker works though should assemble to a symmetric type, that is, try to make the same two one by mistake on the way, to peel off plywood on the way, and to paste it.
This might be a problem of D-111, and might be the problem of FF-125K. Because a lot of spiral horn speakers that the Nagaoka master was introducing are D-103 using ten-centimeter unit FE103E. It is because the spiral horn speaker that uses the unit that there is weight in a low region is made because it was understood that it had wanted to use that I wanted to introduce not D-103 but D-111 12-centimeter unit first of all, and the sound leakage of the convex sound from the sound road part was terrible in the spiral horn.

Let's expect it of the improvement and the aging in the future probably without becoming pessimistic so much.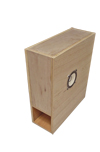 EscargotM