Speaker pursuit road > FOSTEX top
Review of use of Fostex FE88ES-R
The basic data of [fosutekusu] FE88ES-R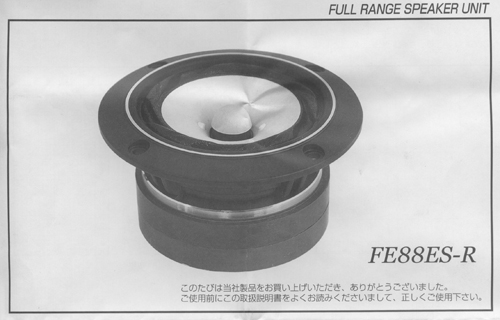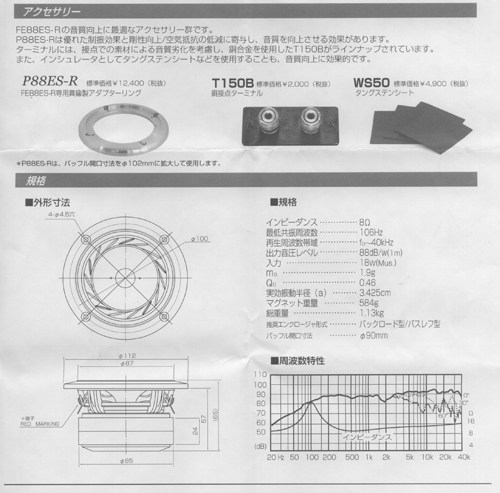 Feature excerpt from Fostex FE88ES-R taking theory
Radial [shoushi] ES corn
Copper and silver alloy voice coil
Highest compass 40khz
Maximum level ��85mm ferrite of caliber of new frame magnet
Limited sales unit
Evaluation of Fostex FE88ES-R Oyama
In FE88ES-R, it is assumed the caliber of a new size of 8.5-centimeter unit and a limited distribution is the done one. There is no interchangeability of FE88ES, FE83E, etc. and the size. The unit of the size of 8.5 centimeters is a size adopted for MG850 of the pure magnesium vibration board afterwards.
The Nagaoka teacher is departing this world when FE-88ES-R is put on the market, and there is no box for this FE88ES-R in Nagaoka teacher's blueprint. However, when the baffle ring is applied to super-Swan, a lot of manias are adopting the method from the best fit as it is. The size can be installed on super-Swan as it is by actually using adaptor ring P88ES-R.
It is a terrible unit that turns on all power of fostex "In a low region, it is ten average centimeters, and a high region is eight centimeters or more" if the feature of this unit is described in one sentence and is made. Unit that it wants you to use it once by all means by backing loading like D-101s super-Swan though [basurefu] can be used because whether Q0 and M0 are some FE88ES is set to improving.
The impression when Oyama installed in super-Swan and it experimented had postponed a high region then compared with FE108S, was high resolution, and feeling of unit with ability that it was and pushing the sound out doesn't defeat 108 super either. It is [yu] knit of [hare] source [shii] of the exactly strongest, full cooking stove worth ..the name...