Speaker pursuit road > the JBL top >
Attention and evaluation of JBL 4348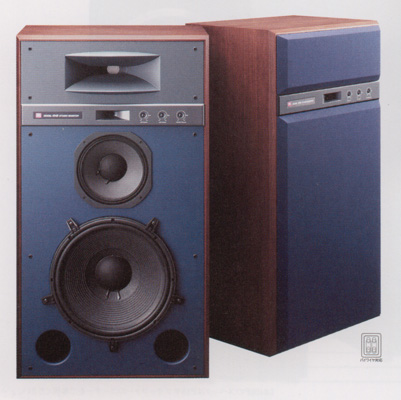 Evaluation of Oyama after JBL 4348 attention
JBL4348 accomplished restyling as a succession model in top 4344MK2 of 43 series in 2002. Legendary 4343 ahead of 4344. 43** Because it is an impression in the attention association of [o-dei;oikeon], this speaker left for the top of the series is considerably ambiguous ahead considerably.
43** Only this 4348 of the 4343 factions still has ..exception.. [fuubou] or dignity though it has listened to the sound of the series for a long time variously. It was heartily felt that it was a sound not emitted if it did not do so by ..wick [gaa] [hikuiki].. advantage of the large caliber speaker still if the wick of amount of feeling and the body in a low region ..bass [konoyoku].. was said would sound it the feature. However, I feel 4338 the above if it says by the settlement of the sound by 4way. If which speaker is not sounded in the room of about 20 mats, it might be severe. Efficiency is the highest in 43 all series because of two large caliber + horn.
This 4348 network circuits are terrific though it is needless to say that 4way network becomes complex. It is complex strangeness being able to make a small personal computer by saying whether. However, the arrangement of the unit of JBL4348 and the phase problem by the network are considerably improved, and are the sounds whose settlement is better than 4344MK2 of the former version.
4348 of JBL is a feature in various meanings speakers, and directionality is quite different from the self-made speaker to which other high-end speakers and we have come up to now. If the peculiarity to JBL is often said that this speaker will be objectively written in ..my idea.. pulling out because writing in pulling out likes and dislikes is an outline of this page, the bass (heavy to give it a harder name bass) with the wick might have something not collected by the jazz hound. What I am pursuing with making by oneself for the attitude of the bass of [kotoko] exactly has an opposite feeling.
The user of this speaker might experience some 43** series naturally, and become a speaker of the attainment at the end. The person who thinks that there is only money and it wants a high-end speaker for the time being cannot recommend this speaker. The monitor and the question with few received calla rations of everyone are greatly better in the said meaning Project K2 S9800 and S5800. this 4348(4343,4344) It is speaker of which it peels off and the ability of a high-end ultra is required of the person who uses it though it is not a speaker of the price of the [urutorahaiendo] class.
In optimism in order of [yasu] shop The price of JBL 4348 is examined.
Feature from JBL 4348 catalog
Premium pure pulp corn, 100mm high density faction long voile coil, lightness, low loss EPDM foam rubber roll edge, and faction subwoofer < 1500FE > of 380mm
250mm diameter fiber composite corn [middobasu] < 2251J-1 > that adopted N.D.D [neoju-mu] differential drive method
Equipped with newly developed [konsutantokaba-rejji] [bairajiaruho-n] 75mm aluminum diamond Fullum compression driver < 435AL > and made of SonoGlass that has [neoju-mumagunetto] magnetic circuit
Pure titanium diaphragm, light aluminum ribbon line voice coil, and high flux of magnetic induction [neoju-mumagunetto] < 045Ti >
Network where can it connect [baiwaiyaringu], and [akutei;bubaianpu] drive
Four [ueibasurefu] 380mm�~1,250mm�~1, 75mm�~1, and 25mm�~1
Crossing 300Hz and 1khz and 10Khz
Size (H�~W�~D) 921�~597�~375
90.7kg